We place great emphasis on creating a happy working environment for our employees, so it was a real honour to learn that we've been awarded the accolade of Happiest Small Workplace in Bristol!
The award, created by workplace and interior design consultancy, Wylde IA, recognises and celebrates the importance of a happy and productive workplace.
Companies are nominated by their own employees, who submit individual accounts of how their employer has created an inspiring work environment. Competition was fierce, but the judging panel managed to whittle the entrants down to nine finalists, which included other fantastic Bristol businesses, Tridos Bank, Shiner and Signature Recruitment.
The judging panel then visited the finalists' offices to see for themselves how happy each workplace is, and to decide on the overall winner.
On our win, the Happiest Workplace judge, Maxine Bennett, said:
"We were really impressed with Ghyston's happy workplace, it's clear that they have worked hard to create a workplace culture of trust and respect for their staff. With their positive approach to work-life balance, Ghyston employees are judged on their productivity rather than hours they work to provide a genuinely flexible working ethos. The company provides a morale budget for employees to organise activities and events of their choosing. Ghyston's management style is open, staff opinions are listened to and considered."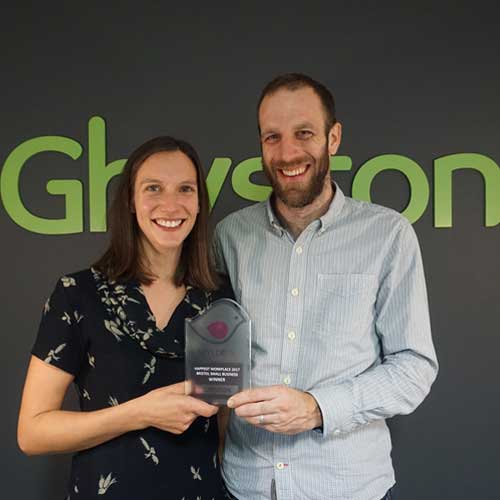 Indeed our MD, Ric Hill, is delighted by the result:
"We're so thrilled to have won the award, which is really a testament to the whole team. At Ghyston, it's a joint responsibility to enjoy our work and have fun with our colleagues, and I'm so proud to lead an organisation which takes that seriously."
Whilst our award now stands proudly in the office, we certainly won't get complacent any time soon – we're always looking for ways to make Ghyston an even better place to work! To find out more on how we do this, read the first in our blogpost series on workplace happiness, starting with Part 1: our environment.