This Summer has been a strange one for Britain, in that it has been hot and sunny almost all the way through. Although heat waves and sky-high temperatures have a habit of making people lazy, we've been hard at work with a variety of fundraising and sustainability initiatives that range from planting commemorative trees to conquering one of the wackiest cycling routes ever envisioned.  
As well as all of that, though, we smashed our annual fundraising target this quarter, with our combined efforts throughout the year totalling over £9,000 raised for worthy causes. Not least among these is our Charity of the Year, Womankind, who provide fantastic support spaces for women who need it most. We set up a collection pot at our annual Summer Parties in aid of the cause and managed to collect over £340 from generous partygoers, which made a well-received contribution to our total.  
Electric Vehicle Leasing Scheme 
As part of Ghyston's commitment to reducing our carbon footprint, we have engaged with Octopus Energy to offer employees an electric vehicle leasing scheme that gives Ghyston employees the opportunity to get a brand new, fully-insured electric vehicle in exchange for sacrificing some of their gross salary. 
Offering the leasing scheme as a salary sacrifice means that employees pay for the vehicle out of their gross salary before tax and other contributions are deducted, saving on Income Tax and National Insurance. Even though they pay a small amount of Benefit in Kind tax (currently set at 2% of the cost price of the car), this is still by far the cheapest way to obtain a brand-new electric vehicle. 
The first employee to take advantage of the scheme is Ghyston's Head of Projects, Dave Winks, who comments: 
The Octopus Electric Dreams company car scheme was so easy to take advantage of. The customised portal made it really straightforward to select and order my electric vehicle, and the whole sign up process was seamless and digital. Our dedicated Octopus Account Manager was extremely helpful, and answered any questions I had promptly. I'm now looking forward to taking delivery of my brand-new Polestar 2 in December!
Grassroots Activator Programme 
Ghyston is proud to partner with the Grassroots Communities GAP Programme to sponsor a young person from Bristol to be the change they want to see, improving the quality of life and creating real social and environmental change in their communities. 
The Grassroots Activator Programme (GAP) is a year-long initiative delivered over 2 days a week for 16 to 25 year-olds from marginalised communities across Bristol that seeks to raise aspirations, create role models and develop realistic pathways to future opportunities. 
The key aims of the programme are: 
Train a cohort of young people with lived experience in marginalised areas of the city in youth, community and nature-based work 
Provide stepping stones for young people to achieve their full potential in employment, education, volunteering, apprenticeships and training 
Develop young people as active citizens within their own communities and the wider city 
Design teaching methods and models of engagement that build young people's capacity to participate in community and environmental leadership in the city 
Establish a framework for others across the UK, and internationally, to enable them to run a similar programme  
We're very excited to be a part of this fantastic initiative! If you're interested in sponsoring a young person to engage in GAP, or could otherwise contribute to a young person engaging in GAP, the please contact Ben Carpenter via info@grassrootscommunities.org 
Environment 
National Bike Week, organised by Cycling UK, ran from 6th-12th June this year, and we celebrated it in style. A few of the Ghyston team set out the challenge of using geo-location and Strava to spell out the name "Ghyston" across our home city of Bristol. The team mapped it out and set out on their adventure! The 16km journey took them round the streets of Bristol, mainly Clifton, Cotham, Redland and Bishopston. The team did this to raise awareness of cycling week, and a bit of fun on their bikes!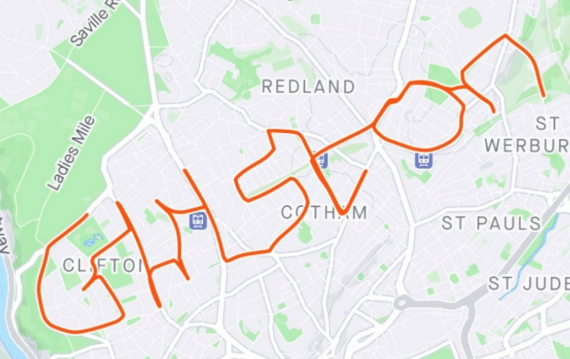 As well as this, we celebrated Ghyston's 10th anniversary this quarter, which brought with it lots of special events! In addition to our brilliant Summer Party, we also planted a commemorative Ghyston tree in Castle Park (a few minutes' walk from our office), to pay homage to a decade of Ghyston, and in particular our founders, Emily and Ric Hill. Here's to the next ten years!