Our CSR focus this quarter has been on a large-scale event for our Charity of the Year: we organised a Step Up for BRACE campaign that saw us walking, running, cycling, and swimming to raise as much money as possible for BRACE and we had a lot of fun doing so. However, even though that kept us busy, we've still been on the lookout for further CSR opportunities elsewhere, and this quarter we have enacted a positive change to our company CSR policy. We have also been monitoring environmental action on the global stage with much anticipation.
Step Up for BRACE
Our main event this quarter was Step Up for BRACE, during which we all travelled as much as possible over two weeks to raise donations. We organised a group bike ride from Bristol to Bath (and back!), and our employees swam in the sea, trained for marathons, and completed triathlons for the cause. One of us even managed to qualify for the Ironman 70.3 World Championships – well done, Ric! We're happy to say that we managed to travel a total of 1,340km and have, due to Ghyston's generous charity donation matching scheme, raised £1,780 so far. Please donate to help us reach our goal if you want to help.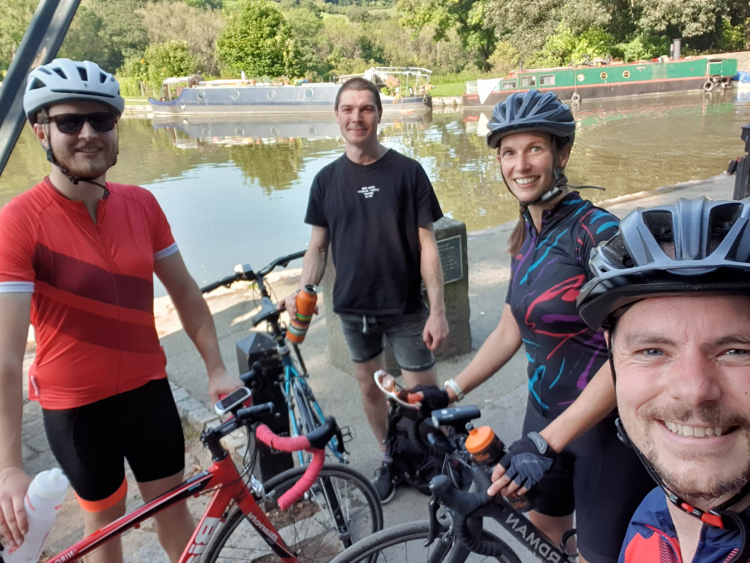 Charity of the Year
We enjoy putting in extra effort for our Charity of the Year, evidenced by our employees' generous contributions throughout Step Up for BRACE. As we move towards the end of the year, we are asking the Ghyston team to come forward with suggestions for a new charity to support in 2022.   We believe that allowing our employees to vote for a charity in this way is an excellent method for galvanising our fundraising efforts throughout the year. In addition, large-scale events like Step Up for BRACE are often more successful because there is a real personal investment and emotional connection to the chosen charity.
If you're interested in becoming Ghyston's next Charity of the Year, please email us at CSR@ghyston.com with a brief overview of your charity and your contact details.
Tax-Efficient Charity Donations
This quarter we have set up a payroll giving scheme, making it easier for our employees to make a tax-free donation directly from their gross pay each month. Ghyston also pays any administration costs necessary for signing up willing employees to payroll giving, meaning that every penny of their donations goes to the charity. Setting up a scheme like this is an excellent way of encouraging people to contribute to worthy causes that they care about while also ensuring that those causes receive a more significant cut of the donation.
We are partnering with Charities Trust to provide this opportunity – contact them if you want to find out more or implement something similar in your business!
Climate Change on the World Stage
As well as monitoring our processes as a company, we have been keeping an eye on global proceedings. The UN Climate Change Conference COP26 is looming. This year it is being hosted in the UK – an opportunity that we must take very seriously at this pivotal moment in global climate history. The organisers of COP26 recognise this and plan to unite international parties in accelerating action in fulfilling the Paris Agreement – they have ambitious goals for the event, and it will be exciting to watch them come to fruition. So, we will be paying close attention when the event kicks off on 31st October.
Looking Ahead
As ever, within the CSR committee at Ghyston, we are staying mindful of our four pillars: workplace, marketplace; community; and environment. This quarter we made excellent progress in the workplace and community directions, and we plan to cap off the year with some vital environmental action. We will be following COP26 and pledge ourselves to plant trees for Bristol's One Tree Per Child scheme – in 2015, they planted 39,000 trees in the area and continue to plant over 6,000 trees every year. We will keep looking for opportunities to improve environmental and charitable action in our marketplace and will also be passing over to a new CSR committee at the end of the year – it is an exciting time for CSR at Ghyston.
We look forward to talking about all the great things we'll get up to in the next instalment of this blog series.
Useful/Insightful Further Reading:
COP26 – a conference for setting climate change goals for the global stage.